Student of the Month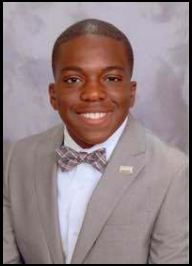 Jonathan Haynes graduated this past spring from Midland High School, earning a 31 on his ACT, and will be attending Princeton University this fall.
He will be concentrating on International Relations with a goal of becoming a medical missionary.
Jonathan has served this past year as the State President of Michigan Business Professionals of America, an organization meant to prepare students for the business workforce.
He has served as the President of his school's Kiva Club, giving micro loans to entrepreneurs across the globe. Jonathan is active within the community, having served on the team for Midland County Youth Leadership and working with Saginaw Valley State University to ensure wild life sustainability within the Bay Watershed.
He has also been awarded within the community for leading a successful effort to have Midland Public Schools recognize Martin Luther King Jr. Day as a school holiday.
Jonathan has been awarded numerous local scholarships in addition to the Coca Cola and Nordstrom's scholarship.
Jonathan Haynes
Student Of The Year for
Director of the Day Youth Development
in partnership with
TLAB Accelerated Learning Centers
T.LAB TESTIMONIALS